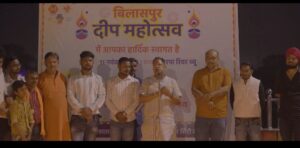 guruastha news
Amar celebrated Diwali with common people, workers and officials
Bilaspur – Today on Diwali, BJP candidate Amar Aggarwal celebrated the festival of Diwali by giving necessary guidelines to make BJP victorious at the residence office of BJP Mandal President, Shakti Kendra In-charge, Convenors, Co-Convenors and booth level officials. He said that Diwali will be celebrated again in Chhattisgarh after the election results on December 3.
Amar Aggarwal said that his first priority is to restore the peace and lost old glory of Bilaspur city. Due to the dedication and hard work of the workers day and night for months, there is a trend of lotus blooming all around in Chhattisgarh. While extending best wishes on the occasion of Diwali, Shri Aggarwal said, in the last five years, Congress has played with the identity and culture of Chhattisgarh.
The people of the city and the state are troubled by the bad culture of corruption, red tape, crime, hooliganism and gang war under the Congress rule. In this sacred land of the maternal home of Lord Shri Ram, under the leadership of the Prime Servant of the Nation Shri Narendra Modi ji, the Bharatiya Janata Party government is going to be formed in Chhattisgarh to fulfill the aspirations of the people with a new identity of energy, dynamism and pride of every person. Your vote for BJP will be the vote that will free Chhattisgarh from corruption and will prove to be the right of the people for good governance and prosperity in the state.