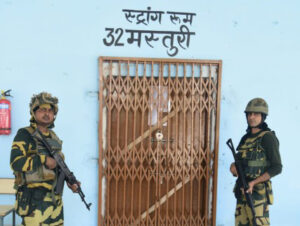 guruastha news
Amidst tight security arrangements, EVM machine is imprisoned in the strong room, the box of luck of the candidates will open on December 3.
Bilaspur – The fate of the assembly election candidates is sealed in the strong room. The EVM machines have been kept safe in the strong room built at the Government Engineering College, Koni and the room has been sealed. The sealing process was completed by Collector Avneesh Sharan and SP Santosh Singh in the presence of Election Commission observers, candidates and political party officials. A company of BSF jawans has been deployed day and night for the security of the strong room and the premises. After the sealing was completed, the entire premises was taken under the control of BSF armed personnel. This strong room will be opened on 3rd December, the day of counting of votes. A three-layer security checking system has been put in place to reach the campus.
Political parties and candidates can also appoint their representative to monitor the strong room. They will be issued a pass with photo by the returning officer. But they will not be able to keep a laptop or any WiFi enabled devices with them. Dozens of CCTV cameras have been fitted in the campus for recording all kinds of activities. Overall, the security arrangements are so strong that even a bird will not be able to escape.
It is noteworthy that the counting of votes of six assembly constituencies of the district such as Bilaspur, Beltara, Kota, Takhatpur, Masturi and Bilha assembly constituencies will be held simultaneously in the same Engineering College campus of Koni. On the occasion of sealing, Election Commission observers Udayan Mishra, Nayeli Ite, Kumar Prashant along with District Panchayat CEO Ajay Aggarwal, Additional Collector and Deputy District Election Officer Shiv Kumar Banerjee and concerned returning officers were present.