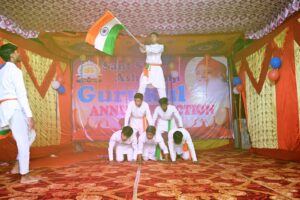 guruastha news
Annual day was celebrated with great enthusiasm at Sant Shri Asharamji Gurukul Raipur. Children gave a colorful presentation.
Saint Shri Asharamji Gurukul, V.I.P. is synonymous with modern education along with spirituality. The annual festival was celebrated with great enthusiasm and zeal at Road, Raipur. The presentation of cultural programs spread the colors of the rainbow on the stage. Shri Suresh Khandelwal, Shri Santram Sahu, Shri Ramdayal Patidar, Shri Ravi Kukreja and Shri Suresh Malang of Sant Shri Asharamji Gurukul Shikshan Samiti were present as guests of the program. Ms. Ankita Gurubakshani and Mrs. Preeti Mukherjee were present in the role of judges.
On this occasion, Mrs. Sunita Dhanwani of Mahila Samiti, Mrs. Raghuvanshi, devotees, parents and students were present. The guests started the program by lighting the lamp. After this, Guru Vandana, Saraswati Vandana and welcome songs were presented. , Thereafter, Mr. Suresh Khandalwal of Gurukul Shikshan Samiti welcomed the guests and Principal Dr. Anita Sharma presented the annual report of the school in which the achievements of the school in academic and co-curricular activities were highlighted.
Students showcased their talent through group songs, group dances (Chhattisgarhi, Punjabi, Pyramid, Garba, Shiv Tandav), Hindi and English drama staging and mime. Students and teachers who excelled in academic co-curricular activities were rewarded by the chief guest. In their greetings on this occasion, the guests appreciated the moral values, ideals and contemporary issues displayed through the cultural programs. He congratulated the school family and children for the excellent examination results and co-curricular achievements. Explained the role of parents and teachers in developing moral values ​​among children.
In the end, excellent class Chhattisgarhi dance and Punjabi folk dance 'Bhangra' was presented by the students. Mr. Ravi Kukreja of Gurukul Shikshan Samiti expressed his gratitude to the guests, participants, teachers and parents. The program ended with distribution of Prasad after Mangal Aarti of Pujyishree. It may be noted that in Sant Shri Asharamji Gurukul, Raipur, education is conducted in English medium from nursery to class 12th and in Hindi medium from nursery to class 10th.