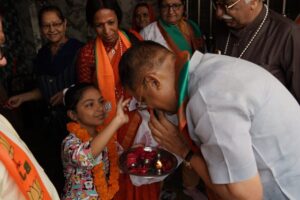 guruastha news
BJP's manifesto soon: BJP's storm is blowing in the state, dissatisfaction among the youth increased due to the government's dual policy of free announcements – Amar

Bilaspur – BJP's Bilaspur Assembly candidate and former minister Amar Aggarwal today visited several wards including Sindhi Colony Chantapara and sought public support from the voters, saying that in the last five years, ever since the Congress government has been in power in the state and there are Congress MLAs in the city, People are troubled by increasing crimes.
For the people of Congress, society, constitution and democracy, cooperative federalism, rather than federal institutions, power and revolving around a family are more important. Before coming to power, Congress had promised prohibition of liquor to the mothers and sisters of the state with holy Ganga water in their hands, but instead of eliminating liquor, they started serving liquor from door to door.
Even during the pandemic, the government gave up worrying about medicines and gave priority to the supply of liquor at every home. BJP candidate Amar Aggarwal said these things during the Jan Samarthan Yatra today. During this, Shri Aggarwal met the general public and listened to their problems while appealing to them to vote in favor of BJP. He told that the city was dominated by equality of all religions but today it is dominated by criminal activities. In the city, in broad daylight, a shooter is brought in from outside and a person is shot. The common man is living in fear throughout the city. The public is worried. The city has been criminalized in five years.
While interacting with the public in the railway area in the evening session, Mr. Aggarwal said that the biggest loss under the Congress government has been the youth who were pushed into the trap of drugs. Lakhs of youth of Chhattisgarh are applying for jobs in CGPSC. And prepare for Vyapam examinations but the dreams of lakhs of youth remained unfulfilled under the Congress government. The PSC Chairman played such a game of appointing Congress leaders and his relatives that contestants from every section are feeling cheated.
It has been five years since the results of the Sub Inspector recruitment examination could not be released. After new recruitment, salary has been cut by 30 percent in the name of Corona. The probation period of government employees was increased from two to three years without any reason. Youth did not get such punishment in any state of the country. This dual policy of the government making free announcements has become a cause of youth dissatisfaction.
When the BJP government comes to power, a relevant recruitment system will be adopted to suit the interests of the youth of all sections so that the youth of the state can actively participate in the journey of progress. Congratulating on the 24th anniversary of the establishment of the state, he said, Chhattisgarh state is the gift of BJP and only BJP will rule it.