guruastha news
Crowds are gathering in Dr. Bandhi's public relations, blessings are being received from the public.
Bilaspur- Bharatiya Janata Party Masturi Assembly candidate Dr. Krishnamurthy Bandhi sought blessings from the public by interacting with people from every village of Sipat Mandal. He conducted intensive public relations in Navagaon Machkhanda Podi of Sipat Mandal. During this, he told the villagers that with the blessings of all of you, BJP made me a candidate again from Masturi Assembly, for this I am grateful to all of you.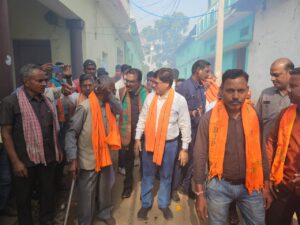 You all saw my tenure as MLA in Masturi. Certainly Masturi moved ahead in the category of development. Today, there is Congress government in Chhattisgarh for 5 years, still there is zero development work in Chhattisgarh, whatever work is done, corruption is done on a large scale.
The people of Masturi understand that Congress has crossed the limits of corruption in Chhattisgarh. This election is about money power, deceit and people power. Congress, all of you should support the people power and defeat the money power. And fully support. So that there is a government of service and good governance. Become a corruption free master. On this occasion, more than hundreds of rural people including BJP district and divisional officials and Morcha cell workers were present.