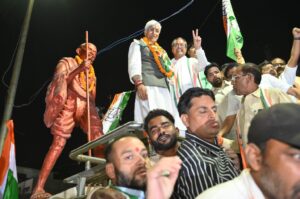 guruastha news
Deputy CM Shihdev held a street meeting in favor of MLA Shailesh, said – the plan we made for all sections in the last 5 years
Bilaspur- State Government's Deputy Chief Minister TS Sihdev today appealed to the people of Bilaspur Assembly to bless him for sending MLA Shailesh Pandey to the Assembly again, saying that now the lotus flower will not bloom in the politics of the state.
Congress government is being formed in the state with full majority and two-thirds majority. In order to implement the scheme made by the state government for the people, women, students and youth of the state, he has appealed to send MLA Shailesh Pandey to the assembly again. While addressing the Nukad Sabha in favor of MLA Shailesh Pandey at Gandhi Chowk, Deputy Chief Minister TES Shihdev also said that 45 lakh poor families will be given free electricity. In the last 5 years, everyone got the benefit of the scheme that we made for all sections of the society. Now preparations are being made to convert all the government schools of the state into Atmanand schools.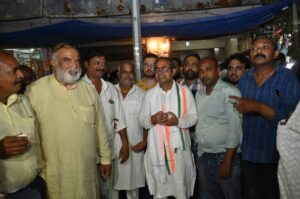 So that children of all sections including poor families can get free education in English medium. Our government has promised to provide free education from school to college, engineering college and medical college. Also, our Congress government will now provide gas cylinders for women at Rs 475. He hit back at BJP and said that BJP people are talking about criminal incidents in the city and if crimes have taken place in the state, then our government has taken action on them.
Our government has fulfilled the promises made in the last assembly elections, now it has given loan waiver, purchased paddy, free electricity and free education to children, built all government schools, colleges, Atmanand schools and improved the future of the children of the state. Asked for support and appealed to send Bilaspur Assembly candidate Shailesh Pandey to the Assembly.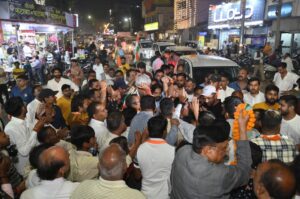 While addressing the gathering at Gandhi Chowk, Deputy CM sought votes from the people of Bilaspur for MLA Shailesh Pandey. The Deputy Chief Minister has said that the MLAs of Bilaspur are loyal and they continued to help the people even during the Corona period to solve the problems of the city for the last 5 years and to solve the problems of the common people. In view of Dhanteras festival, Deputy Chief Minister Shihdev did not do padyatra in Gol Bazar Sadar Bazar and today held an election meeting in Gandhi Chowk. During this, City President Vijay Pandey,
Congress candidate Shailesh Pandey Vijay Kesarwani Block President Javed Memon Arvind Shukla, Moti Tharwani Senior Congress leader Radhey Bhoot, Ashok Aggarwal, Shiva Mishra, Shekhar Mudaliar, Amar Bajaj, Sunil Singh, Akhilesh Bajpai, Rakesh Sharma, Shyam Kashyap, Councilor Shehzadi Qureshi, Ramashankar. Baghel, Bharat Kashyap, Bhaskar Yadav, Azra Khan Deepashu Srivastava, Shyamlal, Ramdulare Rajak, Kashi Ratre, Subodh Kesari, Akhilesh Gupta, Shailendra Jaiswal JP Mittal, Manoj Sharma, Ramzan Gauri Arjun Singh Vaibhav Shukla, Shiv Shankar Kashyap, Shashank Dewangan, Deepak Hundreds of workers including Dixit, Umesh Verma were present. Today, a large number of officials of Mahila Congress, Youth Congress, NSUI and Congress organization were present along with Dev along with the Deputy Chief Minister.