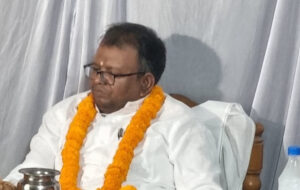 guruastha news
Dr. Bandhi got Guru Asandas ji's blessings, appeal to vote in favor of BJP
Bilaspur – Guru Asandas ji of Telasi Puri Dham Satnam Panth, who came to campaign in favor of Bharatiya Janata Party candidate Dr. Krishnamurthy Bandhi, addressed the gathering in village Tikari, Bakarkuda, Kutela, Pendri, Kisan Parsada, Darrighat. A large number of people of Satnami community and BJP workers were present in the election street meeting organized in Kutela.
Guru Asam Das ji of Santnam sect, while addressing the gathering, said that the Congress government running in Chhattisgarh is the most liar and deceitful government. They have only deceived every society. Not only has it cheated the public on the promises of its manifesto, it also forgot the issues on which Congress had supported while in opposition after coming to power.

Had supported the Satnami community on the reservation issue while being in the opposition. They did not give 16% even after the internal survey. When the Satnam Sena contested the elections in 2013, the Congress said that we lost due to the Satnam Sena being in the field. In the last elections, the BJP Has also accepted. We have shown both the parties how aware the Satnami society is and what is the strength of the society. In 2018, we had supported the Congress government thinking that it would work for the upliftment of the society, but the Bhupesh government deceived us and kept us under illusion. That is why we have joined the BJP with the belief that the BJP will understand the importance of the society and help the society. Will work towards taking it forward.
This time our blessings are with Dr. Krishnamurthy Bandhi. The society stands with Dr. Bandhi. Dr. Bandhi will win with huge votes and BJP government will be formed in the state too. The government of lies and corruption is about to go. During the program, a large number of people from the society present said, Baba Ji, those who got your blessings, their victory is certain, we all are standing in your support.
During this, Dr. Bandhi said that you all have made me a leader, you all have known me for a long time, without any discrimination that can happen to me, I have stood by you all in happiness and sorrow with such a spirit of cooperation. Everyone will work together for the development of the last person of the society. I don't have to say much, you asked, so I got the ticket, now it is your responsibility to win.
During this, Bharatiya Janata Party workers, Mahant, Bhandari, Chhadidar, Sathidar, Raj Mahant and followers of Satnam Samaj were present in large numbers.