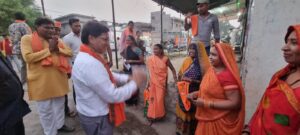 guruastha news
During Congress rule, corrupt criminals had fun, Bandhi called for overthrowing the government.
Masturi – Alleging increasing corruption, criminalization and depriving poor rural people of government schemes in the state during the rule of the ruling Congress, Masturi's BJP candidate Dr. Krishnamurthy Bandhi is busy in vigorous election campaign, appealing to form the Bharatiya Janata Party government in the state. He is continuously visiting his assembly constituency and doing public relations and asking for votes for himself. This time, Dr. Krishnamurtibandhi, who was at the forefront of the door to door campaign, did public relations in village Khudhu Bhata and Devgaon of Masturi Mandal, where once again the women welcomed him by performing aarti and gifting him coconuts, while the same businessmen also offered him floral tributes. Welcomed Dr. Bandhi.
In a conversation with businessmen, Dr Bandhi said that during the Congress rule, businessmen are also being harassed in various ways. They are being blackmailed. Traders are troubled by increasing criminalization and none of their work has been done without paying bribe in these 5 years. The common people who have become victims of government corruption are being appealed to change the situation by voting on 17th November. During this, Dr. Krishnamurtibandhi fiercely attacked the corruption of the Congress government. He said that the rural people are well aware that no work of these two revenue departments can be done without any contribution. not happening
The work which used to be done earlier for ₹ 100-₹ 500, now thousands – lakhs of rupees have to be paid for it and yet government employees and officers are not working. Only criminals have fun during the Congress rule. He also reminded of the recent terror attack in Masturi by the Congress leader's overbearing brother and said that the general public is afraid of this and to change these circumstances, there is a need to overthrow the Congress government. Dr. Krishnamurthy Bandhi said that as soon as the BJP government is formed on December 3, all these criminals will be sent behind the bars, then all the corrupt people will be in jail. The people have a golden opportunity to change their destiny. If he misses this time too, then he will have to once again fight with fear, corruption and hunger for the next 5 years.
Dr. Krishnamurthy Bandhi is the first choice
Due to his friendly, cooperative and soulful behavior, Dr. Krishnamurthy Bandhi is very popular among everyone, from children to the elderly. Due to his service-oriented work, he has a special identity in the entire area. Dr. Krishnamurthy Bandhi, a doctor by profession, has served the sick patients of the area for years. Even when he was the MLA and Minister of the area, he carried out development in the Masturi area. This is the reason why the people of the area themselves are coming forward and asking for votes for him. The people of Masturi area say that they want an educated leadership from their area.
People who dance and sing do nothing, they have tried it once before. So no one wants to waste their vote by voting for a party which has no remote possibility of coming to power or forming the government. He says that such people become ready to be sold only after winning the elections. Filling their coffers is not going to benefit anyone from the rural or assembly constituencies. The voters of Masturi Assembly understand this very well. That is why he has once again resolved to make Dr. Krishnamurtibandhi victorious.
Opponents are spreading confusion
Seeing their possible defeat, the opposition candidates in Masturi Assembly have started spreading false propaganda in panic. Misleading news is being spread with the help of some news portals. Some time ago, there was a big movement regarding the poor condition of roads in rural areas, for which the MLA is being held responsible, but those spreading false propaganda do not even know that the rural area they are referring to is Masturi. But it is situated in Bilha assembly constituency. A malicious attempt to win elections by making wild allegations has started, which reflects the fear arising from the increasing popularity of Dr. Krishnamurthy Bandhi.