guruastha news
It is our responsibility to return the peace and tranquility lost due to increasing crime in the city – Amar Aggarwal
Bilaspur – Senior BJP leader and former minister and BJP candidate from Bilaspur Assembly, Amar Aggarwal today campaigned vigorously and knocked door-to-door in Katiyapara, Juna Bilaspur, Dayalband Madhuvan Krishna Nagar, Juna Bilaspur, Fazalbada, Karbala and met Prime Minister Narendra Modi. Citing the guarantee, he reiterated his resolve to systematically develop the city. While discussing with the journalists, BJP candidate Amar Aggarwal said that the people of the city are upset with such indolent public representatives. When the voters of the city go to the MLA with their problems, instead of solving their problems, they keep crying and singing.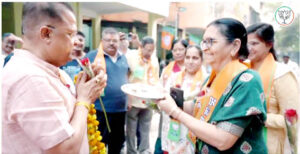 Amar Aggarwal has said that the people of the city want strong leadership. The systematic process of planned development in Bilaspur came to a halt within five years and today instead of taking the form of a metropolitan city, Bilaspur has returned to the twenty year old state of chaos and disorder. Describing the Chief Minister's involvement in betting through Mahadev App as shameful, former minister Amar Aggarwal has said that Chhattisgarh Chief Minister Mahadev was involved in betting. The people of Chhattisgarh are watching where the money of Mahadev App is being spent.
Today, while campaigning in Madhuvan, Dayalbandh and Torwa, Amar Aggarwal said that it has been decided to give one thousand rupees every month to women. Along with this, BJP has also started asking women to fill registration forms to provide permanent houses to the urban poor. The BJP government has promised to build 18 lakh houses in the state. Which has been stopped by Bhupesh government even after getting money from the Centre. As soon as the BJP government is formed after December 3, there will be systematic development of the city. We will complete the incomplete work in five years. It is the responsibility of BJP to provide permanent housing to the poor as well as basic facilities and security to women. A large number of BJP Mahila Morcha, Yuva Morcha and worker officials were present during the election campaign today.