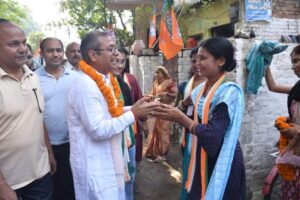 guruastha news
Seth Amar Aggarwal could not convert Arpa River into Thames River and wasted crores of rupees of public money in the name of fake project by showing a false dream.

Bilaspur – City MLA and Congress candidate from Bilaspur assembly constituency Shailesh Pandey has accused BJP candidate Amar Aggarwal of continuously telling lies and said that Seth Amar Aggarwal kept telling lies and only lies during his 15 years of ministry and is still telling lies to the people of the city. Are misleading.
Actually Seth has now become "Maha Labara". He had made a false promise to the city residents to make Arpa River like London's Thames River. But although Arpa river could not become like the Thames river, the dirty water from all the drains and drains of the city definitely started flowing into the Arpa river. During Seth's tenure, the entire Arpa river turned into filth.
Shri Pandey said that Seth Amar Aggarwal wasted crores of rupees of the public in the name of a fake project by showing a false dream of making Arpa River like the Thames River and with this money the officials of the Administrative Officers Corporation were made to travel abroad by propagandizing that That the Arpa River project will be prepared on the lines of the Thames River. Seth misled the people of Bilaspur by telling lies.
Mr. Pandey said, how many more lies will Seth tell? There is no mention of making Arpa Par a Municipal Corporation in the BJP's manifesto, which the people of BJP are praising the Prime Minister and calling it as "Modi's Guarantee", but Seth did not just announce the formation of a new Municipal Corporation to get cheap popularity. But they are also claiming that a new corporation will be formed before the corporation elections.
Shri Pandey said that since the scope of Sarkanda area has increased, there is a need for the government to approve a separate budget for the all-round development of that area. To form a new Municipal Corporation, many types of preparations, delimitation etc. are required and it is not possible to do all this within a year.
The question arises whether Seth Amar Aggarwal has started considering himself as the Chief Minister candidate of BJP and has started making such announcements. There is a limit to lying also. Seth knows that this time too he is losing the election, hence what is the point in making the announcement. This "Mahalbara" has been completely exposed before the people of the city. The public is not going to trust Seth now.