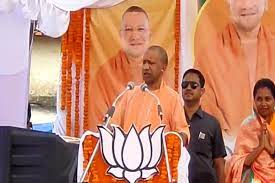 representative guruastha news
Yogi lashed out at Congress in Kabirdham, said – saffron was insulted during Akbar's rule.
Kawardha – The campaign for Chhattisgarh Assembly elections is now going on in the final stages. Before the campaign ends, political parties are engaged in vigorous campaigning. Prime Minister Narendra Modi reached Durg on Saturday. Attacking PM Modi, he said that a huge raid took place two days ago. Congress leaders are filling their houses with looted money. Chhattisgarh government has broken the public trust. He did not even leave the name of Mahadev.
Insult of saffron during Akbar's reign – Yogi
Yogi Adityanath addressed a public meeting at Sardar Patel Maidan in Kawardha city in Kawardha assembly constituency of Kabirdham district. During this, CM Yogi said that
There is a person like Akbar in a holy land like Kawardha. The saffron flag has been insulted during his rule. If there was a BJP government today, this would not have happened. This is not a fight for BJP, this is a fight for your existence. Chhattisgarh government has prevented the schemes of the central government from reaching the people. The people here have not got the benefit of PM Awas Yojana.
Chief Minister Yogi Adityanath said that the land of Chhattisgarh is like a maternal home, the birthplace of Mata Kaushalya is the maternal home of Lord Ram, Chhattisgarh is one of the rich regions of the world due to its wealth, but the Congress government has ruined it.